Understanding Wills, Trusts and Estate Planning – Free Webinar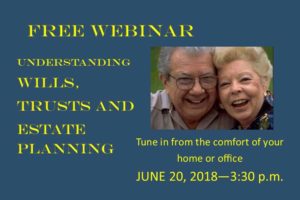 Join me for a free webinar to learn about Wills, Trusts and Estate Planning on June 20, 2018 at 3:30 p.m., Pacific Daylight time from the comfort of your home for this free webinar on estate planning. You will learn:
      – The difference between a Will and a Trust
      – The importance of a good Power of Attorney
      – Who should do estate planning
      – The costs of Probate and how to avoid it
      – Why have a health care directive
      – Much more ….
What do you need and when do you need it.  Please register at the link below.