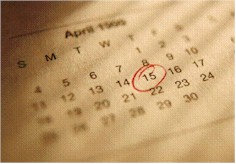 Who's Afraid of April 15th?
Well, you certainly do not need to be. Let's face it, most people get very nervous when it comes time to preparing their income tax returns. That is the way the Internal Revenue Service likes it. They do not have the manpower or budget to enforce tax collections the way they want to, so they use the fear factor.
There are things you can do to minimize the amount of taxes that you pay every year. Don't wait until January to think about taxes! Proper planning can help to eliminate or reduce what you need to pay to the IRS and the state.
Get ready for Tax Season! Download your Tax Organizer by clicking to go to our page of various tax organizers.
For special Arizona tax credits, which could save you in excess of $3,000 for a married couple, go to our Arizona Tax Credit page.
[cform-nd id="715″]